Board members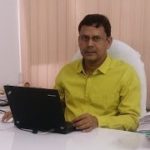 Dr. M.M Raja, President & one of the founder members, has a passionate involvement in creating an empowered society. Coming from a humble background, he post graduated in Accounts and was bestowed with Ph.D in economics. He has received leadership training from AIM, Manila. He is leading a multi-professional team, with expertise in designing, managing, and researching evaluating complex, health, educational, and developmental program, using right-based approach. He was chosen for a Leadership   Development Mechanism (LDM) Fellow by International Institute of education, USA. Bihar  voluntary Health Association (BVHA) Patna conferred DORD with the best NGO prize for serving  poor women and children in reproductive health care in Bihar.
---
Mr. Ganesh Prasad Gupta, Vice President, is the guiding force behind intensifying thesocial movement of DORD at the grassroots level.  He has been actively involved with the educational and health activities of the organization after his retirement as Librarian from Daudnagar College, Aurangabad, and Bihar. He has a passion for working for the elderly care, especially in the eye care & cataract surgery services.
---
Ms. Tasneem Ahmed, Secretary, has more than 8 years of working experience in vocational skill in livelihood beautician training with young girls and women. As a Project Coordinator, she was one of assisting group of DORD Hospital in rolling out Family Planning services in the year 2016. A graduate from sociology, she has been working tirelessly in empowering the underserved & poor women; which is her passion as well as mission. If she could live anywhere, she would choose Bihar.
---
Md. Khalil Ansari, Treasurer, has earlier worked as a supervisor in the SGI Project supported by UNFPA-GOI for 3 yrs. He has been working in the Program Implementation team of TI Project supported by BSACS & NACO, GOI. He has been working very passionately in monitoring, evaluation and compliance of different projects of the DORD. He is also involved in the health projects of the organization.
---
Mr. Razi Alam, Member of the Committee, has a long working experiences in developmental sector for the last 25 years. He has worked intensively in the field of capacity building, training, skill development and gender issues. His communication and field level experiences is valuable asset for the organization.He holds P G Diplomas in Rural Management and Welfare Administration from Patna University. He is a Project Monitoring and Evaluation professional with experience of 20 years in Total Sanitation Program, Livelihood, Reproductive and Child Health, Child Education, and Women empowerment.
---
Mr. Manoj Kumar, Member of the Committee is one of the founder members of the DORD. He has a work experience of 15 years in NGO sector. He has got expertise to design training workshop and impart training, especially in RCH, gender, PRA, on SHG formation and income generation activities. His commitment to design and implement a program at grassroots level and upgrade it to bigger and sustainable level is tremendous.
---
Ms. Minati Chaklanavis, Member of the Committee, has more than two decades of experiences in the field of mass communication, journalism and programmes. She has been associated with Doordarshan (DD News, National Channel) as News Anchor for many years.  She is not only into anchoring and translating News Bulletins, but also assisting the News desk in the preparation of bulletin. A Packard Foundation Scholarship, she has been have been awarded LDM fellowship by the Institute of International Education, US.